About us
Open in October 2002
We would like to ensure our lovely customers; that in our restaurant
we use the best quality meats and fresh vegetable. And cook to serve
as you order by our experienced Thai chefs. We do not use any MSG in
our cooking and we hope that you will enjoy having dinners here with us
at the Pink Elephant Thai Restaurant. We are grateful for that and thank
you very much for your custom.
From Pairoh and all the staff at the Pink Elephant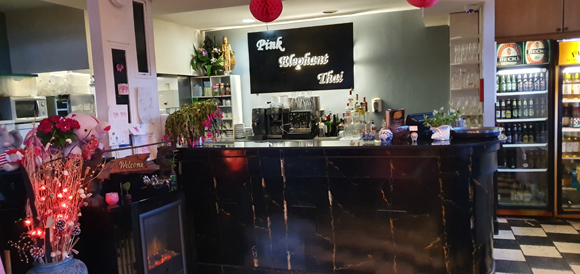 _________________________________________________________
We are open for Take-Away
5.00 p.m. - 10.00 p.m.
Pickup only
Opening Hours

Monday - Thursday 5.00 p.m. - 08.00 p.m.
Friday - Saturday 5.00 p.m. - 08.00 p.m.
Sunday 5.00 p.m. - 08.00 p.m.
Early Bird Menu is available from opening till 7.00 p.m.
Mother's Day & Father's Day open 1.00 p.m. - 08.00p.m.
Bank Holidays open 5.00 p.m. - 08.00 p.m.
Easter day 5.00 p.m. - 10.00 p.m.
Good Friday 5.00 p.m. - 11.00 p.m.
Chrismas eve 1.00 p.m. - 9.00 p.m.
Closed : Christmas Day - St. Steven Day
Pink Elephant Thai Restaurant
23-25 Main St, Mainscourt, Swords, Dublin.
Tel. 01 8904233 01 8904234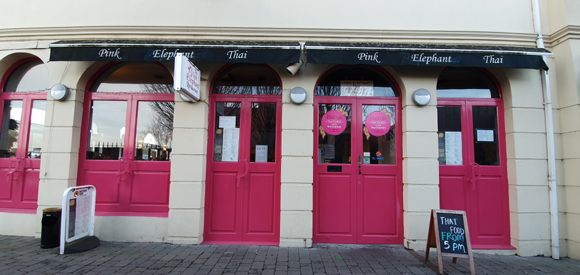 Pink Elephant Thai Restaurant
23-25 Main St, Mainscourt, Swords, Co.Dublin Tel. 01 890 4233 / 01 8904234
Site designed byTaweewat © '2012 - '2021